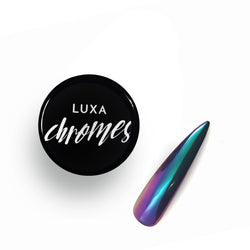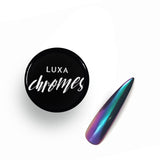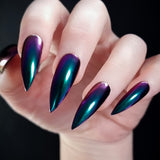 MERMAID BLISS - OIL SLICK
Info
"The Oil Slick Collection" are multi-shifting chrome powders have a tri-quad color shift effect. They are unlike any chrome pigments. The effect is bright and bold. The smooth, creamy application is what makes this pigment stand out. The tiniest amount goes a long way. 
*Product Update*
We are now packaging this chrome in a deeper jar! This will make it easier to use and will help reduce spillage. The price and the amount of product in the jar will stay the same. Enjoy the jar upgrade!
1 gram of powdered pigment in a 5-gram sealed jar.
Professional use only.
Directions
Use 1-2 layers of gel color of choice. Cure.
Apply a thin layer of Luxa Shine top coat and cure. (LED 30 secs / UV 2 min)
For best even coverage use 90% or higher isopropyl alcohol on a lint free and wipe the entire nail with the alcohol. Let dry. (1-3 seconds)
With applicator pick up a small amount of pigment. Use light pressure to rub pigment into the nail. Use an up and down and circular motion to ensure full coverage of pigment. (Do steps 3 & 4 one nail at a time)
Dust off any remaining pigment off the nail.
(Recommended) Apply Luxa Prime on the free edge and side walls to prevent any chipping.
(Optional) For extra protection apply a thin layer of Luxa Base. Cure
Finish with Luxa Shine top coat and cure (LED 30 secs/ UV 2 min)
Repeat steps 3 - 6 if more coverage is desired.
For additional info, check out our FAQ page.