Info
Ultra fine flash glitz gives extreme sparkle that is out of this world. Turn on your camera flash and see the mesmerizing twinkle in photos and videos.
Let your creativity run wild with these loose flash glitters...
✨ Create sugar nails
✨ Mix with clear gel polish, glass gel, hard gel & acrylics
✨ Mix with other Glitz for added effects
3 grams in each jar
View all Flash Glitz
Customer Reviews
04/14/2022
Alaina

United States
Obsessed!
I am obsessed with this flash glitz! It is absolutely stunning!!! Even without flash it looks so pretty!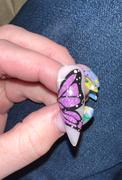 04/07/2022
Donovan A.

United States
Beautiful!!
Love love love this glitz!! Looks great under flash and without flash. Even works under a regular ceiling light or desk light.