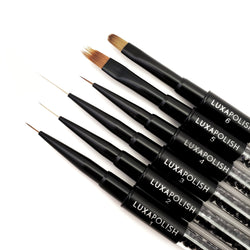 Info
This brush set is a must have for nail art with super intricate detail art work.
Black finish for an ultra sleek look. Designed for our Gel Art Pods.
The set includes 6 (six) brushes:
#1 - Detail Liner Brush - Thin and the shortest brush for fine lines and detail work.
#2 - Ultra Liner Brush - Ultra thin, longer than brush #1. Has more movement for different line and detail work.
#3 - Long Liner Brush - Ultra thin liner for long lines.
#4 - Detailer Brush - Thin pointed end. Perfect for painting and filling in any details, making tiny dots and petals etc.
#5 - Gel Ombre brush - Not the same as other ombre brushes out there. Our brush hair placement is more feathered to make ombre'ing easier.
#6 - Gel Brush - Can be used with our gel pods to paint the nail (NEW COLORS in our Gel Art Pods - Coming soon), Matrix Application or for nail art.
Brush Care:
While in use, keep brush away from sunlight or your LED/UV lamp as it will cure any gel on your brush. Clean any gel or paint from your brush with acetone or alcohol before storing away. Take care when placing the lid back onto your brush. Carelessly placing your lid on can result in bent hairs which will ruin your brush.