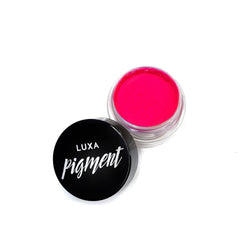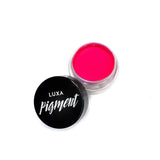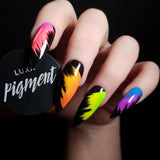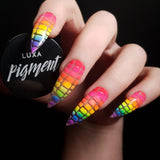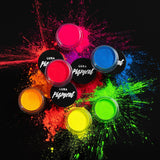 The Chronicles Neon Pigment - HAZE BERRY
Info
Are you ready to take your nail art higher? Spark up some new ideas with these multi-use neon pigments! They're super smooth, pure, and potent – just dip, tap and you're good to go. 
View all The Chronicles Neon Pigments.

2.5 grams of pigment in a 5 gram jar.
Professional use only.
Pigment works best when applied to a cured (tacky) gel color layer or alternatively over cured foil gel. Ensure that any areas of the nail that you do not want to hold pigment are thoroughly cleansed, lightly buffed or top coated to prevent pigment sticking.

Use a small fluffy brush to pick up a small amount of pigment and tap off any excess powder – a little goes a very long way! You may want to try other tools for different effects such as an eyeshadow applicator or latex sponge.
Lightly dust the pigment over tacky gel area. If required, use a clean brush to dust away any excess pigment from around the desired area. 
It is recommended to double top coat to ensure full coverage and prevent chipping. If your finished design is to be matte, apply a layer of Luxa Base or Shine before finishing with Velveteen Matte to prevent any pigment displacement.
Excess pigment can be easily removed from around the nail after top coating by washing hands thoroughly and using a nail brush to clean around the cuticle area/side walls.