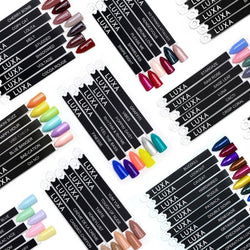 Swatch Sticks - Complete Collection of 300 Colors **Swatch Sticks Only
Info
Save hours of time with pre-painted, pre-labeled swatch sticks. If you're purchasing the entire collection of LUXA Gel Colors, this is the perfect addition! 
Includes painted swatch sticks of all 292 Luxa Gel Colors you see on our Gel Colors Sheet, plus 4 metal rings.
This is NOT the gel colors themselves. To view or purchase the entire collection of gels, click here.