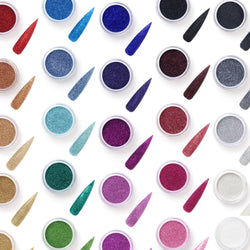 Info
The Micro Glitz Collection is one of a kind and in limited release! Get this amazing set to get all 26 shades of ultra fine metallic glitter. Perfect for nail art!
Set includes all 26 colors:
CHAMPAGNE

COPPER ROSE
CRYSTAL RAINBOW
CRYSTAL WHITE
DIAMOND SILVE

DUSTY DENIM
ELECTRIC BLUE
ESPRESSO
FLIRTY
ICE QUEEN
LASER CHARCOAL
LASER GOLD
LASER LIME
LASER PEONY
LASER SILVE
MAGENTA
ONYX
PERFECT GOLD
PLUM
RED-DY
ROYAL
STEEL
SWEET PEA
TEAL SEA
TICKLE ME PINK
WILD ORCHID
For directions click here
4 grams in each jar.
Solvent Resistant.