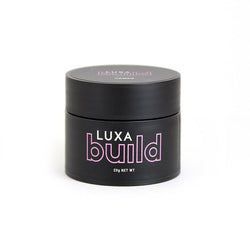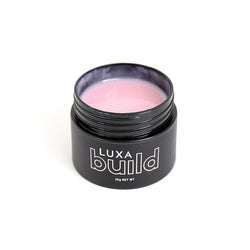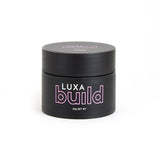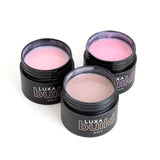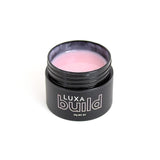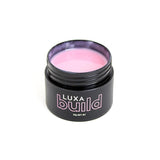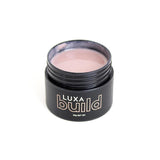 Info
A builder gel in a jar, ready to use with your favorite brushes. Specially formulated for less flooding into the cuticles and side walls. Great for adding strength to thin, flexible natural nails and easy to build extensions.
Our Luxa Build system gives you choices. No more working with gels that don't work with you.
Want a faster, flowing builder gel? Our standard Luxa Build has just the perfect amount of flow without needing to race against the clock. 
Prefer working with a thicker, slow moving gel? Luxa Build 2 has the same features as our standard Luxa Build with even more play time. Perfect for longer nails and extra added strength.
Luxa Build has a slightly thinner viscosity with faster self leveling time and a softer color than Luxa Build 2.
Looking for Build in a bottle? Find it here
Curing times may vary based on your lamp. LED 60 secs. UV 2 minutes.
20g Net Weight | Approx 1 fl oz
Professional use only.
BUILDER OVERLAY
Prep and etch natural nail. Cleanse.
Apply Luxa Prime.
Apply Luxa Base. Cure.
Apply a layer of Luxa Build over the entire nail. DO NOT CURE.
Apply more Luxa Build to the uncured layer, focusing the bulk of the product in the apex area for strength. Cure (LED 60 secs / UV 2 mins)
Wipe inhibition layer. File and buff into desired shape.
Apply Luxa Gel Color or Finish with Luxa Shine.
 SCULPT WITH FORMS
Prep and etch natural nail. Cleanse.
Apply Luxa Prime.
Apply Luxa Base. Cure.
Apply form.
Apply Luxa Build focusing on the tip of the natural nail then extending over the form to create desired extension length. Cure.
Carefully remove form.

Structure layer

 

- Apply a layer of Luxa Build over the entire nail and built extension tip. DO NOT CURE.
Apply more Luxa Build to the uncured layer, focusing the bulk of the product in the apex area for strength. Cure (LED 60 secs / UV 2 mins)
Repeat steps 7 & 8 until desired thickness/shape is created.
Wipe inhibition layer with alcohol.
File and shape.
Apply Luxa Gel Color or Finish with Luxa Shine
SCULPT WITH TIPS
Prep natural nail and apply nail tip with glue.
Etch natural nail and blend nail tip. Cleanse.
Apply Luxa Prime to the natural nail.
Apply Luxa Base over natural nail and nail tip. Cure.
Apply a thin layer of Luxa Build over entire nail and tip. Cure.

Structure layer

 

- Apply a layer of Luxa Build over the entire nail

 

and extension tip. DO NOT CURE.
Apply more Luxa Build to the uncured layer, focusing the bulk of the product in the apex area for strength. Cure (LED 60 secs / UV 2 mins)
Repeat steps 6 & 7 until desired thickness/shape is created.
Wipe inhibition layer with alcohol.
File and shape.
Apply Luxa Gel Color or Finish with Luxa Shine
FILL
Remove gel color or top coat.
Blend down the grow out of Luxa Build.
Prep natural nail. Cleanse.
Apply Luxa Prime to the natural nail.
Apply Luxa Base over entire nail. Cure.

Structure layer

 

- Apply a layer of Luxa Build over the entire nail. DO NOT CURE.
Apply more Luxa Build to the uncured layer, focusing the bulk of the product in the apex area for strength. Cure (LED 60 secs / UV 2 mins)
Repeat steps 6 & 7

 

until desired thickness/shape is created.
Wipe inhibition layer with alcohol.
File and shape.
Apply Luxa Gel Color or Finish with Luxa Shine