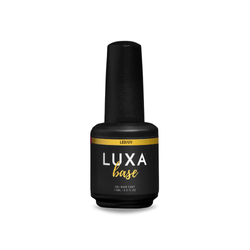 'Luxa Base' is a gel base coat and is the foundation for your Luxa Gel Colors. Use on a cleansed natural nail avoiding the cuticle and side walls.
Also great for adhering crystals or rhinestones to your nails!
Directions
Gel Manicure
Prep and cleanse natural nails
(Optional) Apply Luxa Prime for ultimate staying power for prone lift nails.
Apply Luxa Base over prepped cleansed natural nails. Cure (LED 60 secs / UV 2 mins)
Apply Luxa Gel Color of choice. Cure.
Finish  with Luxa Shine. Cure.
Attaching Crystals or small embellishments 
Apply Luxa Base. DO NOT CURE.
Place crystals or small embellishments on the nail. Cure.
For extra staying power, with a liner brush use Luxa Shine and careful outline the edges of the crystals / small embellishments. Cure.

Note: Curing times may vary based on the wattage of your LED/UV lamp.
Are you a LUXA Pro? Buy in bulk and save with Pro Bundles.
15mL / 0.5 fl oz
Professional use only.