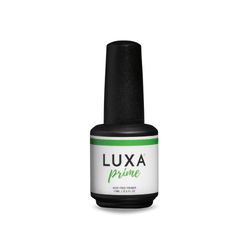 Info
If you've been looking for a primer that works seamlessly with all enhancement services, look no further! Luxa Prime is an acid free primer. Full size bottle 0.5 fl oz/ 15 ml. 
Are you a LUXA Pro? Buy in bulk and save with Pro Bundles.
15mL / 0.5 fl oz
Professional use only
Directions
Apply a thin coat of Luxa Prime to cleansed natural nails avoiding the cuticle and side walls. Air dry to a sticky finish. A second coat may be added for extra adhesion.