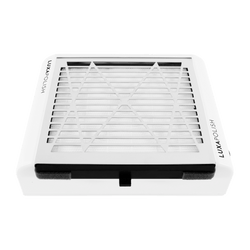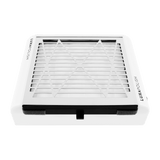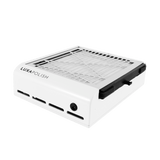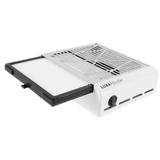 *NEW* Luxa Nail Dust Collector
The Luxa Nail Dust Collector is essential to help keep your workspace clean and dust free while filing off Luxa Matrix, Gels, or Acrylic Nails!
Powerful suction, super light-weight and takes up less space on your desk.
Our accordion shape filters, similar to air purifier filters, are designed to capture even the finest dust particles. The reusable filters can last up to 6 weeks with regular cleaning after every use.
Filter Care: To clean your filter, simply slide filter out from the dust collector and empty by tapping on a hard surface or into a trash can. DO NOT wash filter.
FEATURES
NEW* 50% Longer Cord
NEW* Acetone-resistant Finish

NEW* Includes 1-year Limited Warranty + 8 Filters
Lightweight and portable
Lower noise compared to other Dust Collectors
Powerful fan creates strong suction for maximum dust collection
Wide vacuum surface area
Simple on/off switch
Easy to clean, reusable long lasting filter
 INCLUDES
1 LUXA Nail Dust Collector Plus

1-year Limited Warranty & 8 Filters

1 AC Power Adapter (for US outlets)
DIMENSIONS
Outer - 9" x 7 2/8" x 3 1/8"
Vent Surface Area - 7 1/8" x 6 7/8"
Weight - 1.1 lb
40 Watt - 4500 rpm 
WARRANTY
All LUXA Dust Collectors include a 1-year limited warranty against damages or defects. For warranty terms and conditions, or to submit a warranty claim, see our Warranties Information Page.
Filters must be replaced every 4-6 weeks for the warranty to be effective.