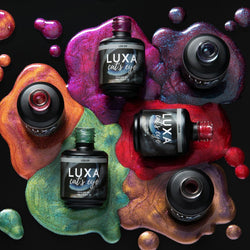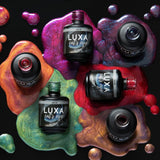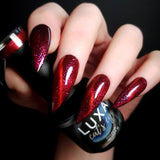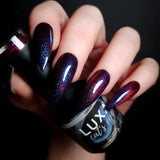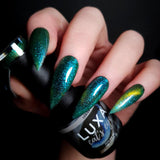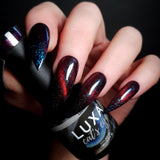 Cat's Eye Volume III - 6 pcs
*Sold Out*
These colors have sold out as a set, and will not be restocked.
The good news: Individual colors are available for purchase!
Don't want to miss another launch?! Be sure to sign up for emails.
Info
A rainbow spectrum of smooth metallics with color-shifting shimmer - these stunning multi-toned shades will add a new dimension to your Cat's Eye collection. 
LUXA Cat's Eye Volume III is a magnetic gel color that will give a beautiful cat's eye effect. The set features 6 full-coverage colors and a double-sided magnetic wand.
Pictures shown over a black base.
Set includes:
Cat's Eye No. 13
Cat's Eye No. 14


Cat's Eye No. 15

Cat's Eye No. 16

Cat's Eye No. 17

Cat's Eye No. 18
Limited quantities of sets are available. When sets sell out, they will not be restocked, but single colors can be purchased individually: $18 each
15mL / 0.5 fl ozProfessional use only
If applicable, apply gel color of choice. Cure.
Apply a layer of Cat's Eye gel.
Hold "Magic Wand" diagonal, horizontal, or vertically 1 cm away from uncured Cat's Eye gel to achieve your desired look. Cure. LED 30 - 60 secs / UV 2 min.
Finish with Luxa Shine No Wipe Gel Top Coat. Cure.
TIP: It is best to do one or two nails at a time, flash cure, then continue. If you mess up, no worries! Just repaint with Cat's Eye Gel and redo it till you're  happy. Then cure.