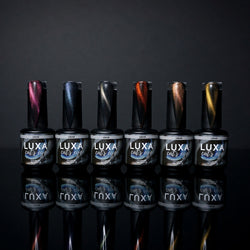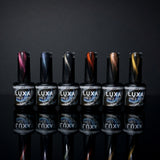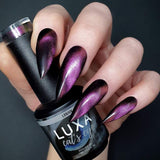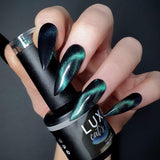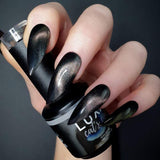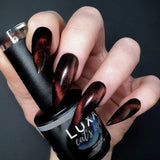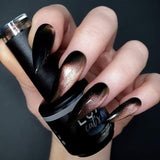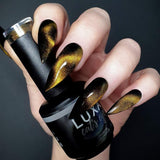 Cat's Eye Volume II - 6 pcs
*Sold Out*
These colors have sold out as a set, and will not be restocked.
The good news: Individual colors are available for purchase!
Don't want to miss another launch?! Be sure to sign up for emails.
Info
LUXA Cat's Eye Volume II is a magnetic gel color that will give a beautiful, dark cat's eye effect. The set features 6 ultra responsive shimmer shades.
Pictured over BLACKOUT gel color (sold separately).
Set includes:
Cat's Eye No. 07
Cat's Eye No. 08


Cat's Eye No. 09

Cat's Eye No. 10

Cat's Eye No. 11

Cat's Eye No. 12

Magnetic Wand
Price if purchased individually: $18 each
Limited quantities of sets are available. When sets sell out, they will not be restocked, but single colors can be purchased individually.
15mL / 0.5 fl ozProfessional use only
If applicable, apply gel color of choice. Cure.
Apply a layer of Cat's Eye gel.
Hold "Magic Wand" diagonal, horizontal, or vertically 1 cm away from uncured Cat's Eye gel to achieve your desired look. Cure. LED 30 - 60 secs / UV 2 min.
Finish with Luxa Shine No Wipe Gel Top Coat. Cure.
TIP: It is best to do one or two nails at a time, flash cure, then continue. If you mess up, no worries! Just repaint with Cat's Eye Gel and redo it till you're  happy. Then cure.